Hindi Images
Mahakal photo for FREE Download | Mahakal images
Mahakal photo is mostly liked by people who love god. There are lots of options to download this type of images but our website provide one click download. Here you can download best mahakal images hd.
"Sir utha kr chalte hain mahakal ki mehrbani hai,
mahakal ki bhakti krna mere jeevan ki kahani hai."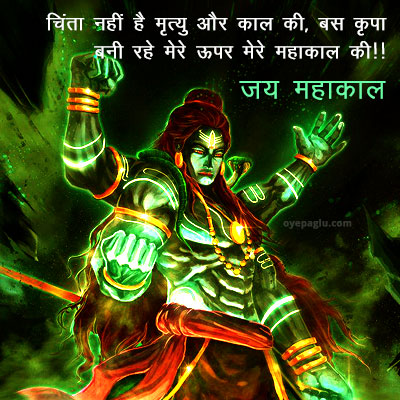 "chinta nahi hai mirtyu or kaal ki,
bs kirpa bani rahe mere upr mahakal ki."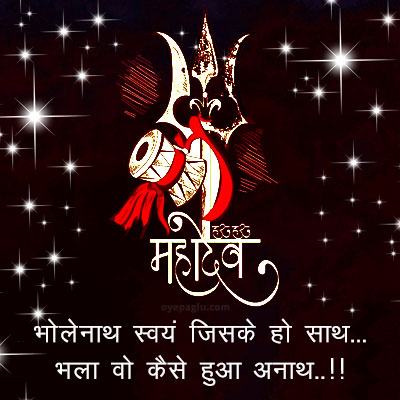 "Bholenath sway jiske ho sath…
Bhala vo kese hua anath…"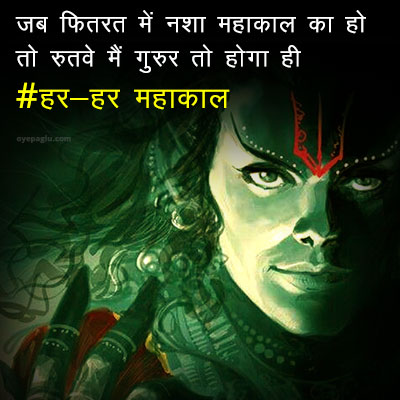 "Jab fitrat mai nasha mahakal ka ho…
to rutve mai gurur to hoga he…
Hr.. hr.. mahakal.."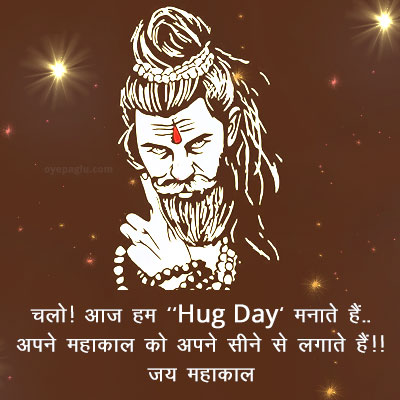 "Chalo aaj hum HUG DAY manate hain..
Apne mahakal ko apne seene se lagate hain…
JAI MAHAKAL"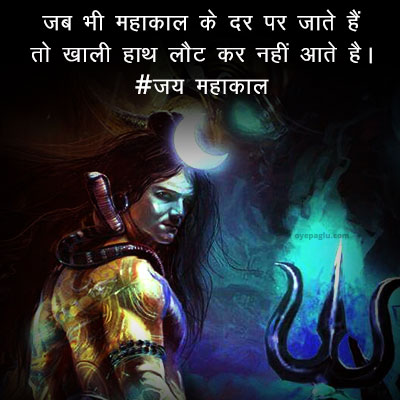 "Jab bhe mahakal ke dar pr jate hain
To kahali hath lautkr nahi aate hain"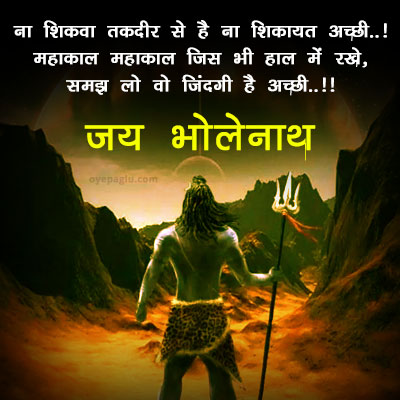 "Na shikva takdir se hai na shikayat acchi…
Mahakal jis bhe haal mai rakkhe
Samjh lo vo zindgi hai acchi….
JAI BHOLENATH"
"Jahan baras raha hai mere mahakal ka pyar
vo darbar bhe kisi jannat se kam nahi
hr-hr Mahadev Shiv Shankar"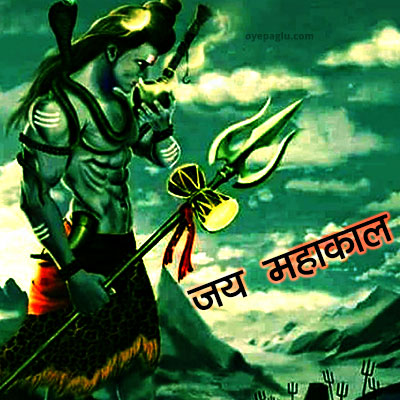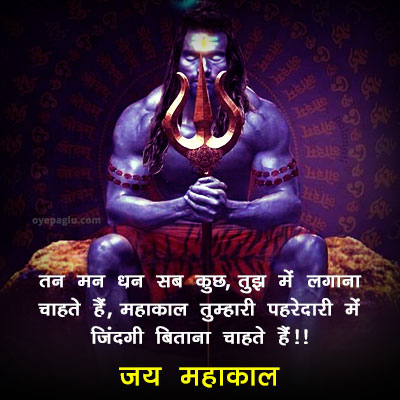 "Tn mn dhn sab kuch tujh main lagana chahte hain,
Mahakal tumhari phredari main zindgi bitana chahte hain."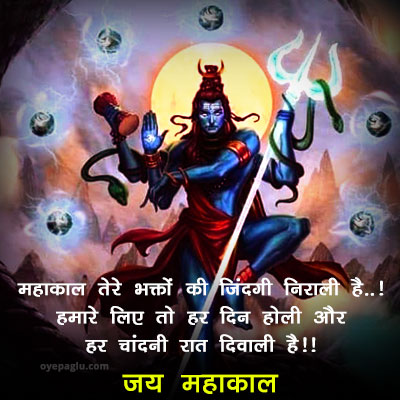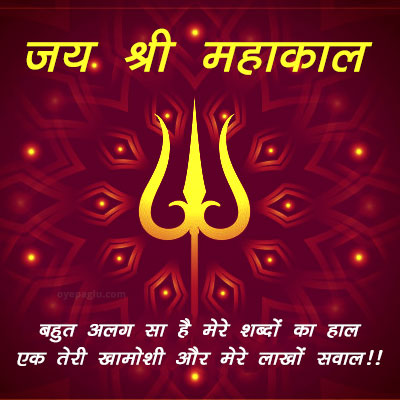 "Bhut alag sa hai mere shabdon ka haal..
Ek teri khamoshi or mere lakho saval…"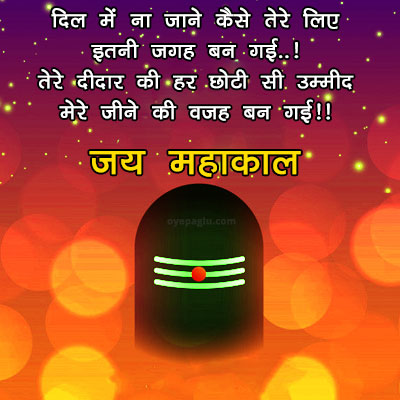 "Dil mai na jane kese tere liye etni jagah bn gai…
Tere didar ki hr choti si umeed
Mere jeene ki umeed bn gai…"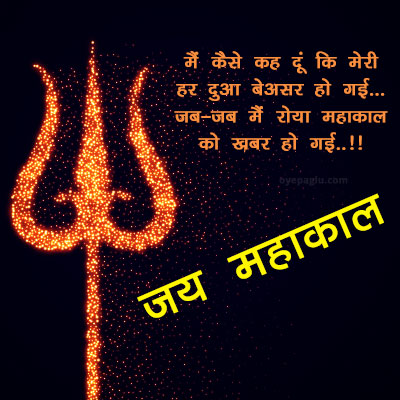 "Kese keh du ki meri hr dua besar ho gai…
Jab-jab mai roya mahakal ko khabar ho gai…"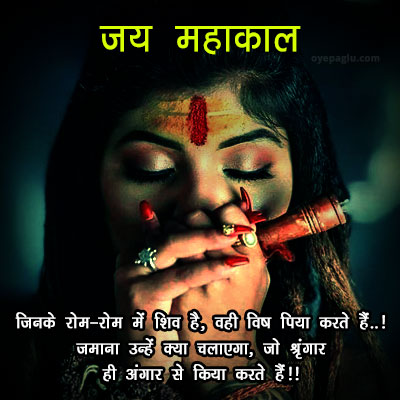 "Jiske rom-rom mai siv hai, vahi vish pia krte hain..
Jamana unhe kya chlayega,
Jo shingar he angar se kia krte hain…"
"Chinta nahi hai mirtu ki kaal ki,
Bs kripa bani rahe mere upr mere mahakal ki.."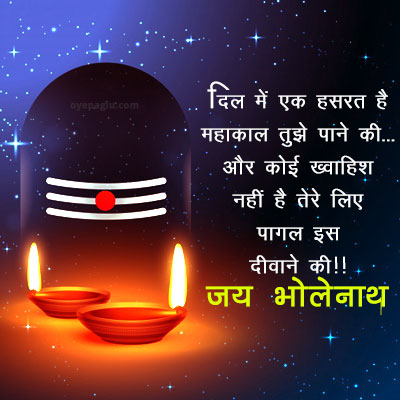 "Dil mai ek hasrat hai mahakal tujhe paane ki…
or koi khwaish nahi hai tere liye pagal es deevane ki…"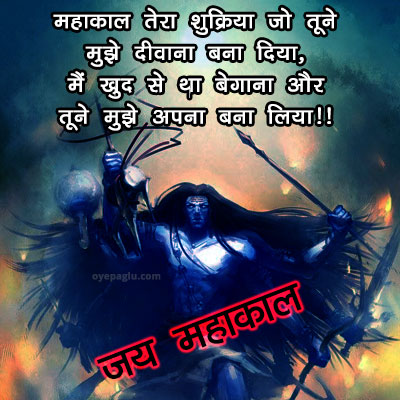 "Mahakal tera shukrya jo tune mujhe deevana bana diya,
Mai khud tha begana or tune mujhe apna bana liya"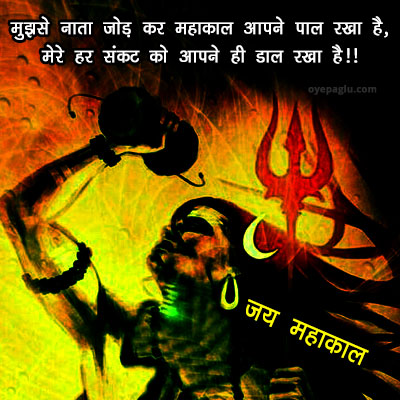 "Mujse naata jod kr mahakal aapne paal rakkha hai…
Mere hr sankat ko aapne he taal rakkha hai…"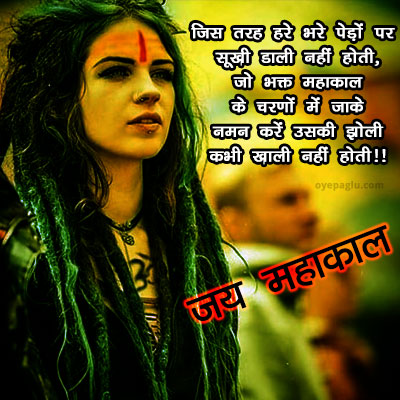 "Jis trah hare bhare ped pr sukhi daali nahi hoti…
Jo bhakt mahakal ke charno mai jakr naman kren
Unki jholi kabhi khali nahi hoti."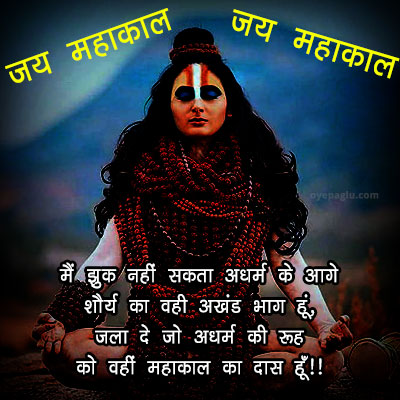 "Mai jhuk nahi sakta adharm ke aage
shorya ka vahi akhand bhag hun,
Jala de jo adharm ke ruh ko
vahi mahakal ka das hu"
All mahakal photos is provided are very attractive. We want to know by you how you feel about our mahakal photo collection.